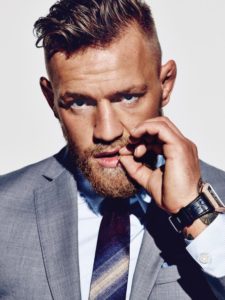 Everybody knows Conor McGregor, the famous MMA fighter with his legendary quotes. Never afraid to shock his opponents and entertain the audience in front of him.
Most people will think he's mad, has too much confidence, and is arrogant…. But this guy knows what he does; he does it all with an intention.
He destroys his opponents psychologically; their minds are beaten before the game even begins. You'll get what I mean later on in this article.
He has built a reputation and he defends it pretty damn solid.
Ladies and gentlemen Conor McGregor is what we call a real alpha male. His story can be an inspiration for many among us. You just need two things: first of all you'll need high testosterone and second of all the right mentality.
Okay maybe a little spark of madness but I've got mine after my testosterone became really high. This blog is a result from this little spark, the fire burning inside of me, craving to get out and help and inspire others.
His life started out as "a failure"
You need dire misery to understand absolute elation. I really liked this sentence because it's true. Sometimes you really got to hit rock bottom to realize that you've got potential to make it.
Conor took up plumbing after school because his father wanted to give him a secure future. He did this for eighteen months of fourteen hour workdays. Sounds like a really heavy job to me with lots of stress.
Conor was tired of this lifestyle and decided to give it all up to learn kickboxing. A choice that changed his life forever but he didn't make it right away.
Shocker…
This guy needed food stamps to survive until he made his debut on the 6th of April 2013. On that day McGregor received a phone call from Dana White, which paved his way to his UFC debut.
You can read his fight history into more details here.
Long story short he made his debut in 2008 but his claim to fame came five years later on April 6th 2013. That night he made a 60 000 dollar knockout of the night bonus.
People tend to stare themselves blind at someone's success, they always forget what those people had to sacrifice to make it. They always forget the struggle these people had to face before they really made it.
He had many benefits of engaging his body in a demanding physical regimen
According to Conner learning mixed martial arts will sharpen you instinct to conquer just about any professional discipline.
I agree with him although it doesn't necessarily have to be mixed martial arts, things like calisthenics will have the same result.
In this present time our minds are poisoned, we are constantly comparing our self with the rest of the world. When you train you withdraw yourself from that poisoned mindset and this lets you regain focus and productivity.
The great thing is that he claims he's born without any talent; he just had an obsession for mixed martial arts. This obsession made him put in the hard work that made him the champion he's today.
You know what the best form of medication or anti-depressant is? It's not some pill you can pop out of a plastic bottle. The best form is movement, sports; this makes your mind clear and your head empty.
Lots of people claim that they hate sport but do they really hate it? Or are those people the one who give up when they have to do an effort? I takes will not skill.
It's all about getting out of your comfort zone.
He has a razor sharp instinct and almost no routine
The only thing he has is a morning routine after that it's just what he wants to do.
"Wake up, drink water, stretch and loosen up. Conor's daily habits end just about there. From there on, his impulses take over to decide whether it is time for Yoga, lifting weights or a class of Taekwondo, Jiu-jitsu, Capoeira or Boxing. He sticks to no time table."
Only in the morning a routine is important after that you just need your work get done. Switching things up makes life more enjoyable, routine gets you into a rut.
It makes life really boring. Don't be one of these people. Get a morning routine and then get your work done in the order you want.
He's confident and walks his talk
This guy has a lot of confidence and he can't hide it . He knows what he wants and he will get it. This Irish Pitbull dominates everyone and everything on and off the pitch.
"Isolated game plans and strategies can fail. Thorough knowledge built with discipline regularly upgraded by facing diverse challenges cannot."
He never backs out of a scheduled fight even if he's injured, now that what I call mentality.
When he fought Max Holloway he tore his anterior cruciate ligament (located at the knees), same happened when he fought Chad Mendes.
Instead of giving up he changed his offense so he was in a stronger position and he has beaten them both.
Maybe his opponents became overconfident because he was injured but that doesn't change this guy's mindset.
He trash talks to al his opponents but he makes sure every word he says comes true.
He talks the talk and walks the walk.
This guy has a bulletproof mental toughness, the kind that can make you succeed in every aspect of life.
Take a look at he dominated his opponent
Like I've said in the introduction the minds of his opponents are beaten before the game even begins.
Look at how he played with the reigning featherweight champion, Jose Aldo.
Conor provoked Aldo all the time and he keeps doing it till he really gets on his nerves. Jose Aldo claims he's going to teach him a lesson but at that point he's lost.
He's blinded by anger, he couldn't think straight anymore and that's what made him lose. Conor got into his head and he couldn't take that mental hit.
Once you've lost mentally you'll lose physically, there's no doubt about that. When the mind says stop the body will follow.
Now look at how they act in the ring, look at their posture. Conor is walking confident, looking like a lion at his gazelle he's going to catch for dinner.
Jose stands still with his head down, that guy lowered his testosterone just by standing there like that. You can tell by his posture that he want's to unleash his cross. All his energy is focused on his right hand.
When you face a guy like that who knows that he has nothing to lose, you'll better look him in the eyes. Show him that you're not afraid and will do everything to protect your kingdom.
Thirteen seconds later the gazelle is down, ready to be eaten. Defeated by Conor's words, impressed by Conor's self-belief.
The lion is the king of the jungle and he will take down every animal that tries to claim it. That's what the gazelle learned in those brief thirteen seconds. the Celtic lion has stricken once again..
Conor McGregor eats like a man
He eats for optimal performance so he fuels his body with real quality food. He eats plenty of greens, quality meat/ fish like chicken, steak and salmon. His only carb sources are vegetable carbs like butternut squash and sweet potato.
His coach posted a picture of how his fridge looks like before a big fight.
He said:
"That's what a fridge looks like for a bunch of smart primates. Salmon, chicken, steak, fruit and veg. That's it. If you think we've got bread in this house then you've not been paying attention."
Conor said that he's never eating take away and he's trying to eat clean.
Like most of us he's got a sweet tooth and he loves cake and coffee. As long if you'll eat clean the majority of the time clean a bit of cake won't hurt you.
Besides when my grandmother gives me some of her homemade cake I'll never refuse it. I've never been out of shape by eating some cake from my grannie.
I'll always refuse the cake from grocery stores cause I don't like it, you just taste the chemical crap they've put into it.
Conor McGregor his quotes are entertaining
Here are eight of his greatest quotes just for your entertainment.
"I'D LOVE TO FIGHT MYSELF. I REALLY WOULD. IMAGINE THE NUMBERS THAT WE'D DO, IF THERE WERE TWO OF ME?"
"ME AND JESUS ARE COOL. I'M COOL WITH ALL THE GODS. GODS RECOGNIZE GODS."
"I CAN MAKE YOU RICH. I'LL CHANGE YOUR BUM LIFE. WHEN YOU SIGN TO FIGHT ME, IT'S A CELEBRATION. YOU RING BACK HOME, YOU RING YOUR WIFE: 'BABY, WE'VE DONE IT. WE'RE RICH, BABY. CONOR MCGREGOR MADE US RICH. BREAK OUT THE RED PANTIES.'"
"WHEN ONE OF US GOES TO WAR, WE ALL GO TO WAR!"
"DOS ANJOS BROKE HIS FOOT AND HIS VAGINA IN THE SAME DAMN DAY."
"MY SUCCESS ISN'T A RESULT OF ARROGANCE – IT'S A RESULT OF BELIEF."
Conor McGregor vs Nate Diaz: the battle of the alphas
The first fight
Conor his technique worked on all his opponents. They all hated him one by one and made mistakes because they couldn't think straight. Some even changed their style a bit just to get this guy down.
I worked until he was challenged by Nate Diaz. Nate wasn't afraid to challenge Conor in public and did this in a pretty entertaining way. I don't think that Conor was ever challenged in this way but he didn't mind and kept on playing his game. There was just one slight problem. Nate wasn't impressed by Conor and his mind games. Nate just sat there and he didn't seem to be interested at all. He didn't talk much either. Either way his style worked as well since Conor felt that he had a real opponent this time.
Nate took all his hits in the first round and Conor was looking tired already. In the second round Conor made the same mistake as all his opponents. He changed his style in a final attempt to win. He tried to take Diaz down with grappling but that's his weakest point in fights. Nate on the other hand has a very strong ground game so he took Conor down.
Their reaction after the fight
Nate told that he wasn't surprised and therefore I have nothing but respect for this guy. First of all he took the game eleven days before it took place and won against probably one of the best UFC fighters in this day and age. Furthermore he didn't spar in those days and still was able to perform at a high level.
Conor McGregor reacted like a true man, he admitted his mistakes and said he would learn from this defeat. He didn't make any excuse and took all the blame. He was focusing on the rematch and he got it.
UFC 202: the moment of truth is coming
One of the most anticipated fight of the last years is about to take place. The fight is so popular that almost everyone forgot about Conor McGregor vs Floyd Mayweather. It's like nobody is waiting to see Floyd Mayweather make a onetime comeback.
You can't neglect his fight anymore; they talk about it on every YouTube channel, podcast, new site and so on. They all discus who's going to win and nobody seems to know the answer.
Conor McGregor is hungry for revenge their no doubt about that. It seems like he's got some good motivation to train even harder.
Nate Diaz on the other hands is confident enough that he'll win again. He wants to make Conor see the curb again.
The last press conference: Conor vs Diaz 0-1
Conor arrived late at the press conference. Nate didn't care like usual but than he just stood up and left. He played along and Conor didn't like it.
Most noteworthy was the fact that Nate threw the first bottle but it wasn't intention to hit someone. After that Conor just lost it because he was faced with someone who does what he wants and only Conor used this tactic in the past.
Who will win?
But now the question arises who'll win this fight.
Nate Diaz will find an opening in the third round and force a tapout according to The Huffington Post.
Most noteworthy is that Conor McGregor claims he'll put Nate down in the second round.
I can't pick one to be honest. That's because they both have some strong reasons why they could win this fight and therefore we can only eagerly await the fight.
May the best man win.
Update: Conor was the clear winner. He's the better boxer of the two. Nate has a solid chin though. Really looking forward to Conor vs Floyd.
Till next time
Alex
Subscribe if you haven't already
Subscribe if you haven't already
Follow my blog with Bloglovin. They also got an app which informs you anytime I release a new blogpost.
Resources
http://www.irishmirror.ie/lifestyle/slimming-dieting/conor-mcgregors-eat-clean-diet-5670447
http://healthyceleb.com/conor-mcgregor-the-notorious-biography-and-fitness-secrets/45038
http://www.muscleandfitness.com/athletes-celebrities/news/notorious-quotes-conor-mcgregor
Comments
comments